Network Monitoring Integration
Unify service monitoring
with CRM
Break the silo between operations and the business to generate additional revenue and improve customer experience by bringing network and infrastructure monitoring information into the CRM.
Why integrate monitoring systems with CRM?
Monitor customer services across all elements to gain a 360° insight into service performance and discover upsell opportunities.
Automatically detect upsell opportunities
using monitoring data,
algorithms & machine learning.
Strengthen Customer
Relationships
Enable best-in-class customer experience by providing account managers and sales reps with a 360° insight into service performance.
An example ROI (return on investment) calculation for a provider with 5K services and $500 ARPU (monthly recurring charge).
| | |
| --- | --- |
| Number of services provided for customers | 5,000 |
| Average monthly recurring charge (MRC) per service (excl. taxes & fees) | $500.00 |
| Average MRC increase resulting from service upgrade | $100.00 (20%) |
| % services needing upgrade | 5% |
| Services needing upgrade | 250 |
| Monthly revenue increase | $25,000.00 |
| Annual revenue increase (HIDDEN REVENUE POTENTIAL) | $300,000.00 |
Holistic service monitoring
Traditional NMS/RMM/APM/APM/Observability systems monitor individual elements (or nodes) only. Each element represents a single piece of equipment (a router, a firewall, a server, a network interface, etc.) or an application (a SQL database, an Active Directory server, a DNS service, etc.).

However, a single service usually depends on multiple elements to work properly.

We solve this problem by looking at the service structure (service elements and their dependencies), cross referencing it against individual elements' performance and applying data science analytics to establish a holistic, aggregated view of services.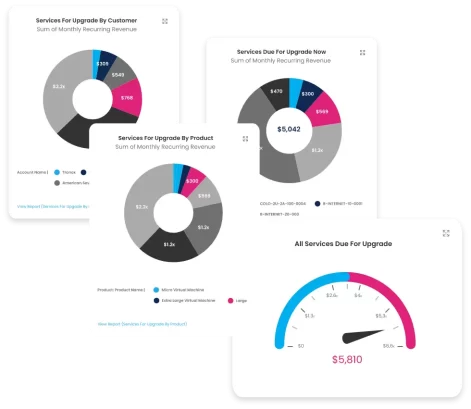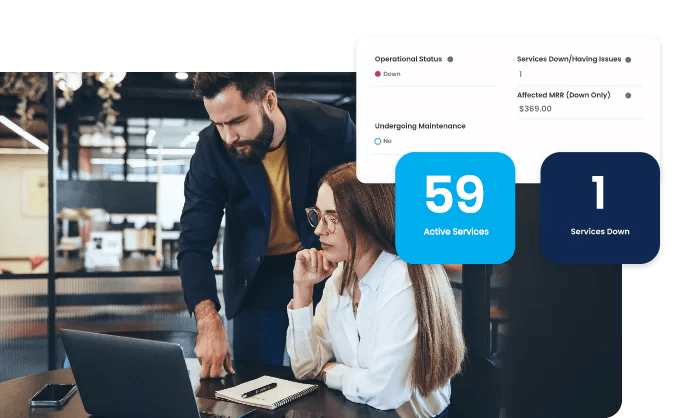 Understand the big picture easily
Establish easy-to-understand view of services' and accounts' performance for account managers, sales reps and support teams so they can serve customers better:
Leverage your existing monitoring
Consolidate information from your NMS/RMM/APM/Observability systems to gain a complete insight into customer services' performance and availability.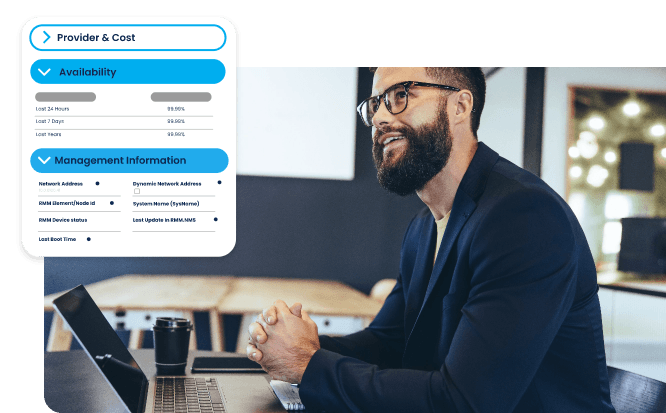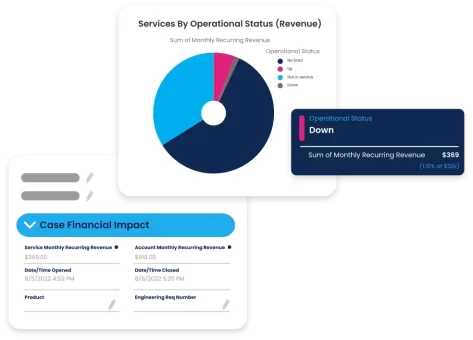 Gain visibility into financial impacts of problems
Combine performance and financial information to make better business decisions, triage and prioritize issues, and focus communication where most effective.
Simplify outage response automation
Leverage service-level alarms and availability to easily create automated support cases or implement other outage automation scenarios.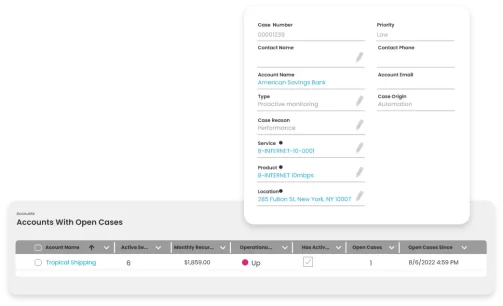 Integrate any NMS/RMM/APM/Observability systems
Integrate out of the box with industry standard NMS/RMM/APM/Observability systems as well as any API-enabled ones.